35%

GIFT WITH ORDERS OVER 40€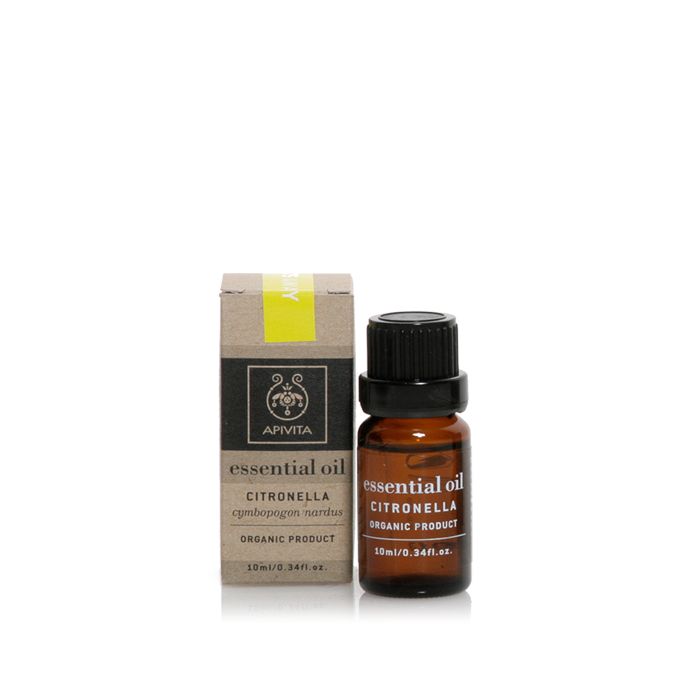 Citronella is a scented herb which grows mostly in Sri Lanka and India. For many centuries, it was used from the Ayurveda Indian natural medicine method. It's most commonly used as an insect repellent.

Beauty: Can be used against lice. Ideal for oily skin and hair.
Body: The most well-known and powerful insect repellent. Wards off insects and mosquitoes.
Mind and spirit: Reduces mental strain.

Use: Room insect repellent: Add 8 drops of citronella essential oil to the air diffuser or alternatively add 4 drops along with 4 drops of any of the following: geranium, eucalyptus, cedarwood or lavender. Insect repellent oil: Add 35 drops of citronella essential oil to 100ml of almond oil or alternatively 15 drops along with 10 drops of lavender and 10 drops of geranium and apply all over the body. Insect repellent oil for children: Add 10 drops along with 8 drops of lavender and 5 drops of eucalyptus to 100ml of almond or chamomile oil and apply all over the body. Preventative oil for lice: Add 15 drops along with 5 drops of geranium and 5 drops of lavender to 50ml of jojoba oil and apply several drops onto hair roots. To protect your clothes from moths: Place a cotton swab with 10 drops of citronella or 5 drops of citronella along with 5 drops lavender in your drawers.
More Information

| | |
| --- | --- |
| Brand | Apivita |
| Availability | 1-3 business days |
| Flammable | Νο |
| Vegan | No |
| Audience | All |
| Content | 10ml |
| Ages | All |
| Skin Types | All |