GIFT with back2school over 25€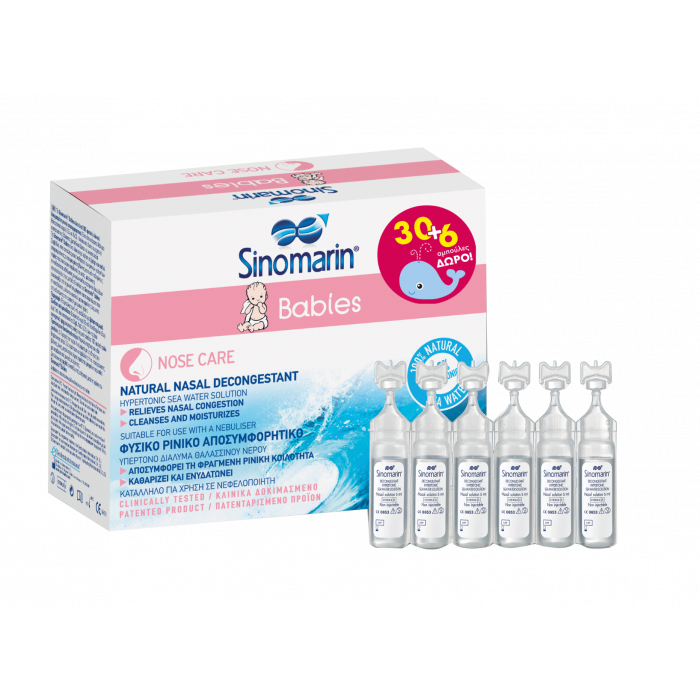 Sinomarin Babies is a 100% natural, clinically proven nasal decongestant. It is a hypertonic sea water solution (2.3% NaCl) rich with the sea's beneficial ingredients (mineral salts and trace elements).

Sinomarin Babies is ideal for infants and babies as it helps cleanse the nasal cavities, eliminating mucous and mucous-trapped impurities, thus preventing nasal and secondary ENT infections and complications e.g. otitis. Sinomarin Babies helps decongest nasal cavities via the natural mechanism of osmosis, restoring nasal breathing naturally. Sinomarin Babies helps alleviate symptoms linked to nasal congestion.

Composition per vial: Sea water 3.5 ml, Purified water q.s. 5 ml, equivalent to 23g/L NaCl (2.3%).
Preservative-free. Drug-free. Chemical additives-free. 100% natural.

Use: a few drops in each nostril, 2 to 3 times daily, or as per physicians' instructions. In cases of thick and superfluous mucous, a larger volume may be safely introduced in each nostril.
More Information

| | |
| --- | --- |
| Brand | Sinomarin |
| Availability | 1-3 business days |
| Flammable | Νο |
| Vegan | No |
| Off from Original Retail Price | 42 |
| Audience | Kids, Babies |
| Content | 36 ampoules x 5ml |
| Ages | All |
| Skin Types | All |