32%

GIFT WITH 2 PRODUCTS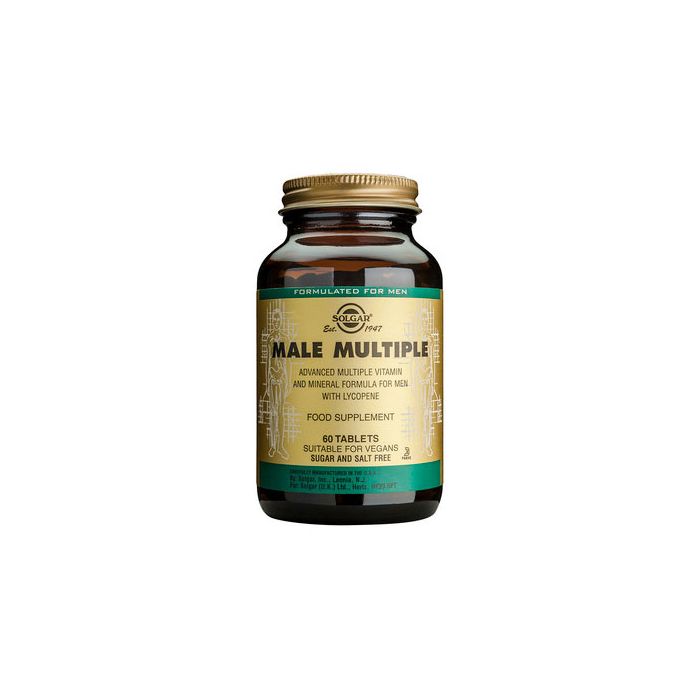 The multivitamin of Solgar Male Multiple is an advanced formoula high in nutrients and it is an ideal combination for optimizing men's health. Specifically Male Multiple, among other food items, supplies the male body with zinc and lycopene, substances that can help the health of the prostate.

Simultaneously the multivitamin of Solgar Male Multiple contains all the necessary vitamins, minerals, trace elements and herbs that help to support the overall health of man, such as vitamins B6, B12 and folic acid can reduce homocysteine ​​levels in the blood (factor associated with cardiovascular health). It also contains vitamins C and E, selenium and carotenoids which are the natural necessary antioxidants.

Male Multiple Multivitamin is produced by using natural ingredients and non-genetically modified soybeans. In addition, the product does not contain iron, while metals containing chelated forms and are made ​​from Albion Laboratories in accordance with strict specifications.

For all men who wish to meet their energy requirements and to achieve better levels of health and vitality, Solgar proposes the specially designed for men multivitamin Male Multiple.

Solgar Male Multiple:
• Covers the deficiencies in essential vitamins and nutrients
• Provides power and stimulate the male body
• Covers the increased energy requirements
• Combats mental and physical fatigue
• Provides the male body with essential elements for maintaining prostate health
• Provides antioxidant action
• Enhances the functions of the nervous system

Use: Male Multiple Multivitamin of Solgar is taken as a food supplement for adults, 1 to 3 tablets daily, preferably with meals.
More Information

| | |
| --- | --- |
| Brand | Solgar |
| Availability | 1-3 business days |
| Flammable | Νο |
| Vegan | No |
| Audience | All |
| Content | 60 tablets |
| Ages | All |
| Skin Types | All |