55%

GIFT with 2 products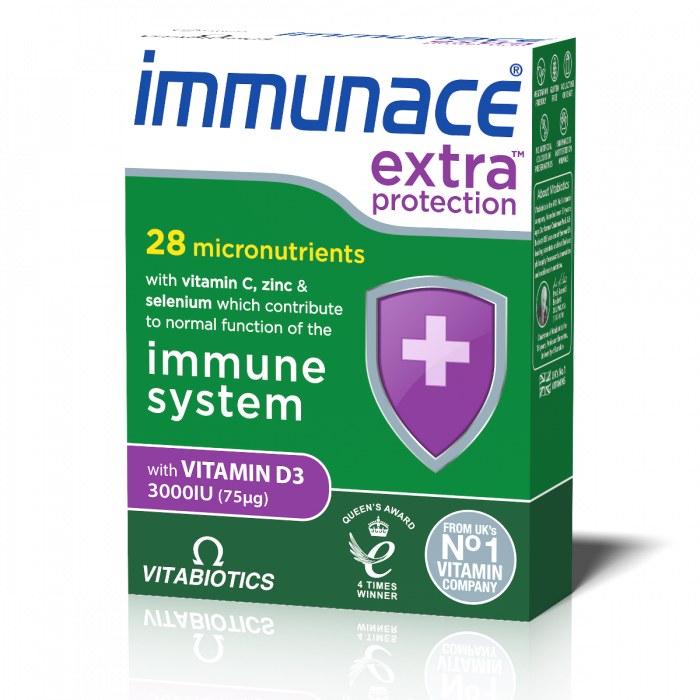 Food supplement with essential nutrients for the normal functioning of the immune system.
Immunace Extra has been developed by leading scientists and nutritionists at Vitabiotics to support your daily diet with a higher dose of Vitamin D3 (1000IU) than the original Immunace formulation.
Recently, scientists have discovered that taking a higher daily dose of vitamin D can have better results.
Vitamins A and D contribute to the normal functioning of the immune system.
Vitamins C and E help protect cells from oxidative stress.
Immunace is a daily source of vitamin C which is not produced or stored by the body.
USAGE
1 tablet per day during the main meal. Ingestion with water or cold drink. Do not chew it. The product is not suitable for children under 12 years.
More Information

| | |
| --- | --- |
| Brand | Vitabiotics |
| Availability | 1-3 business days |
| Flammable | Νο |
| Vegan | No |
| Off from Original Retail Price | 55 |
| Audience | All |
| Content | 30 tablets |
| Ages | All |
| Skin Types | All |
Vitamin C [ascorbic acid (Carrier: hydroxypropylmethylcellulose)] 150mg (188% of RDA), Magnesium 60mg (16% of RDA), Vitamin E [DL-alpha-tocopherol acetate (Carriers: thioxide dioxide) % of RDA), Citrus Bioflavonoids 30mg, Alpha Lipoic Acid 50mg, L-Cysteine ​​40mg, L-Carnitine Tartrate 30mg, Zinc 15mg (150% of RDA), Thiamine / Vitamin B1 (18% of S) Niacin / Vitamin B3 (nicotinamide) 27mg (169% of RDA), Pantothenic acid (as calcium salt) 20mg (333% of RDA), grape peel flavonoids 25mg, Iron 8mg (57% of RDA), astaxanthin B carotene (potato starch, water, antioxidant: DL-alpha-tocopherol acetate) 3mg, Vitamin B6 (as pyridoxine hydrochloride) 10mg (714% of RDA), Vitamin A [acetate (Carriers: acacia gum, acacia, acacia , antioxidant: DL-alpha-tocopherol)] (2500IU) 750μg (94% of RDA), Riboflavin / Vitamin B2 6mg (429% of RDA), Manganese 2mg (100% of RDA), lycopene 5mg, Vitamin B 12 [cyanocobalamin (Carrier: Calcium diphosphate)] 14μg (560% of RDA), Vitamin D3 [cholecalciferol (Carriers: medium chain triglycerides, silicon, talc, matodextrin, 500% ethylhydroxy and butylyl yn) ), Copper 1000mg (100% of RDA), Vitamin K1 [phytomenadione (Carriers: acacia gum, glucose syrup, calcium triphosphate)] 70μg (93% of RDA), Chromium 100μg (250% of RDA), Folic acid (Folic acid) acid) 400mg (200% of RDA), Selenium 180μg (327% of RDA), Iodine 200μg (133% of RDA). Tableting ingredients: microcrystalline cellulose, ethyl cellulose, dibasic calcium phosphate, polyvinylpyrrolidone potato starch, magnesium stearate, silicon dioxide, magnesium silicate and talc. Coating: polyvinylpolypyrrolidone hydroxypropylmethylcellulose, propylene glycol, ethylcellulose, hydroxypropylcellulose, caprylic triglycerides, pigments (titanium dioxide or oxides). RDA = Recommended Daily Dose.
Does not contain: artificial colors, preservatives, lactose, yeast.
May contain traces of nuts.