40%

GIFT with 2 products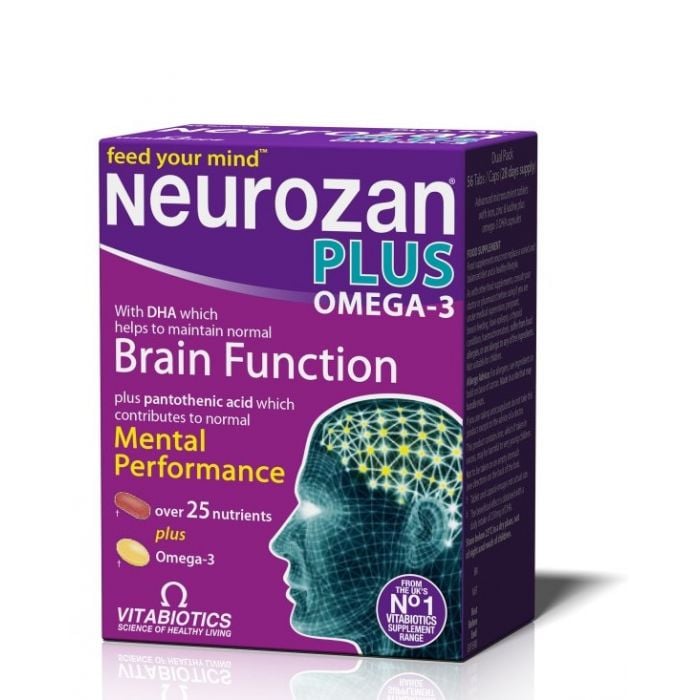 Food supplement with the necessary nutrients for mental well-being & maintenance of normal cognitive function.
The brain needs the necessary nutrients that support general mental well-being and the maintenance of normal cognitive function.
Vitamins C, B6 and B12 and magnesium, contained in the tablets, help maintain a good psychological state and the normal functioning of the nervous system. Iron, iodine and zinc contribute to normal cognitive function. Pantothenic acid contributes to normal mental performance.
Omega-3 capsules contain 300mg of DHA, which helps maintain normal brain function, and zinc, which helps normalize fatty acid metabolism.
USAGE
1 tablet and 1 Omega-3 capsule daily during the main meal. Ingestion with water or cold drink. Do not chew them. Do not use on an empty stomach. The product is not suitable for children.
More Information

| | |
| --- | --- |
| Brand | Vitabiotics |
| Availability | 1-3 business days |
| Flammable | Νο |
| Vegan | No |
| Off from Original Retail Price | 40 |
| Audience | All |
| Content | 56 caps |
| Ages | All |
| Skin Types | All |
Magnesium 75mg (20% of RDA), Vitamin C (ascorbic acid [carrier: hydroxypropylmethylcellulose, tartaric acid) 80mg (100% of RDA), Vitamin E (in the form of acidic electric D-α-tocopherol) (from sog) ( 300% of RDA), L-arginine, Pantothenic acid (as calcium salt) 36mg (600% of RDA), Thiamine / Vitamin B1 (as mononitrate) 25 mg (2273% of RDA), Zinc 15 mg (150% of RDA), Gingko Biloba extract 120mg, Niacin / Vitamin B3 (as nicotinamide 32mg (200% of RDA), Vitamin B12 (cyanocobalamin, [carrier: calcium phosphate]) 100μg (4000% of RDA), Iron Eight mg (Hg) seed Griffonia simplicifolia 20mg, Vitamin B6 (as pyridoxine HCI) 10mg (714% of RDA), mixture of natural carotenoids (β-carotene, starch, water, antioxidants: DL-α tocopherol) 2mg Q, 10gm, coenzyme Manganese 2mg (1000% of RDA), L-Glutathione 5mg, Riboflavin / Vitamin B2 3mg (214% of RDA), Vitamin D3 (cholecalciferol [carrier: medium chain triglycerides, colloidal dioxide) silicon, talc, maltodextrin, BHA, ethylcellulose]) 25μg (500% of RDA), Copper sulfate 250μg (25% of RDA), Folic acid (pteroylmoglutamic acid) 400μg (200% of RDA), Selenium 110 μg (200% ), Chromium 40μg (100% of SDR), Iodine 150μg (100% of SDR), Phosphatidylcholine (from soy) 10mg, Phosphatidylserine (from soy) 10mg. Tableting agents: microcrystalline cellulose, calcium carbonate, stearic acid, silicon dioxide, magnesium stearate, carboxymethylcellulose. Tablet coating (hydroxypropylmethylcellulose, polyethylene glycol, pigments of natural origin: titanium dioxide, red iron oxide). RDA = Recommended Daily Dose.
INGREDIENTS PER CAPSULE
Omega 3 fish oil (concentrated docosahexaenoic acid) (from fish) 600mg, capsule shell: [medicinal purity gelatine (beef), glycerin, natural lemon oil].
Does not contain: artificial colors, preservatives, gluten, yeast, salt.
May contain traces of nuts.