55%

GIFT with 2 products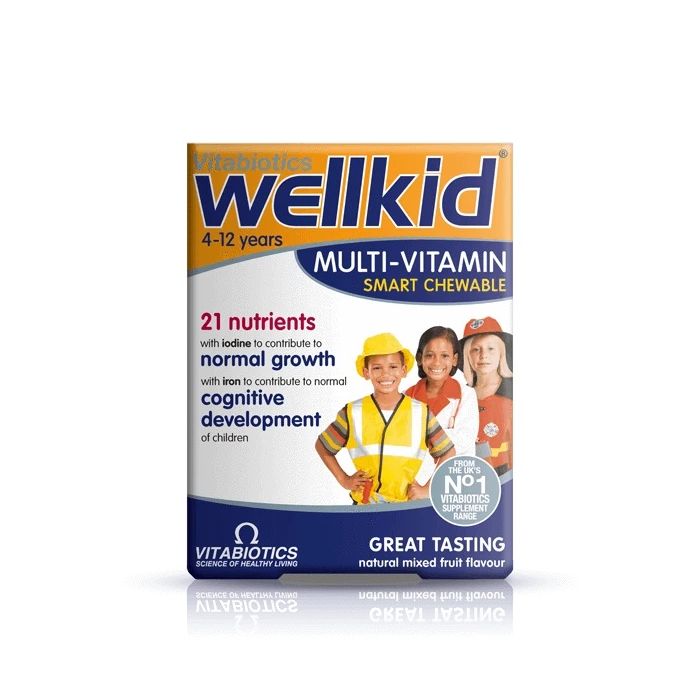 The food supplement Vitabiotics Wellkid include chewable tablets which are specifically designed for growing children, aged 4-12 years. Each tablet provides a range of 21 necessary ingredients such as vitamins A, B, C, D, E and important minerals such as magnesium, iron and zinc, at appropriate levels for children. It also contains a natural source of omega-3 fatty acids from flaxseed. The combination of vitamins A, C, D and E, B complex vitamins and minerals such as selenium, can help maintain proper child development, strengthen the immune system and promote the release of energy. The iron and zinc play a very important role in brain and nervous system, and additionally iron, vitamin B12 and folic acid are essential ingredients for production of hemoglobin in bloo , and therefore the transfer of oxygen and nutrients ingredients in the body. Vitamin D, magnesium and zinc support health of bones and teeth which are developing rapidly in this age. Omega -3 fatty acids help maintain the proper functioning of the brain, nervous system and vision, while in combination with chromium and selenium can help to maintain healthy levels of cholesterol and blood glucose.

Composition Features
- Chewable tablets with great taste raspberry & lemon
- Synthesis of a tablet a day
- It contains the sweetener xylitol which does not destroy the teeth
- Suitable for vegetarians

Use: One tablet daily, preferably with a main meal. The tablet must be chewed rather than swallowed. It should not be given to children younger than 4 years.
More Information

| | |
| --- | --- |
| Brand | Vitabiotics |
| Availability | 1-3 business days |
| Flammable | Νο |
| Vegan | No |
| Off from Original Retail Price | 55 |
| Audience | All |
| Content | 30 chewable tablets |
| Ages | All |
| Skin Types | All |