50%

GIFT with 2 products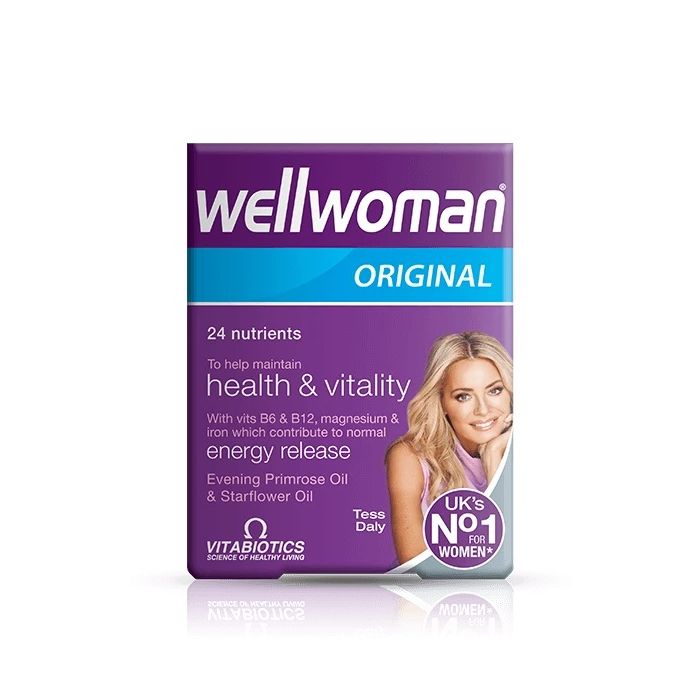 The food supplement Vitabiotics Wellwoman Original is a unique formulation of herbal extracts and 22 micronutrients. Evening primrose oil and starflower oil that it contains are rich sources of omega-6 essential fatty acid GLA (gamma - linolenic acid). According to studies, GLA enhances the immune system, improves skin health and can help regulate hormones and the menstrual cycle. The bioflavonoids, carotenoids and vitamins C and E have antioxidant propertiesand helps to protect the body from toxic substances produced in the body, for example due to exposure to solar radiation, intense physical exercise, smoking, exposure to contaminated environments etc. Vitamins B play an important role in brain function, hemoglobin production and the production of energy from the body. The composition reinforced by various metals with various actions such as iron, magnesium, copper, zinc and selenium are cofactors of enzymes involved in various processes of the organization. In addition, the composition includes vitamins D and K, which contribute to bone health.

Composition Features
- Synthesis of a capsule a day
- Suitable for long term use

Use: One capsule daily with main meal with a full glass of water or cold drink.
More Information

| | |
| --- | --- |
| Brand | Vitabiotics |
| Availability | 1-3 business days |
| Flammable | Νο |
| Vegan | No |
| Off from Original Retail Price | 50 |
| Audience | All |
| Content | 30 tablets |
| Ages | All |
| Skin Types | All |